How Luxaflex® Help Create More Energy Efficient Homes
At Luxaflex®, we're an industry leader in making a big energy savings difference at the window. We even invented the highly energy-efficient Duette® Shades in response to the energy crisis of the late 1970s.
To support sustainable living, our latest innovation is the Duette® Architella® Shades featuring a honeycomb-within-a-honeycomb design for even greater energy efficiency. This reduces the staggering 50% of heat lost through windows (even with double glazing). The intelligent design of our award-winning blinds can reduce this by almost half as the honeycomb-shaped cells create an insulating layer at your window.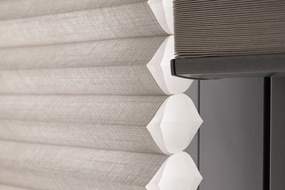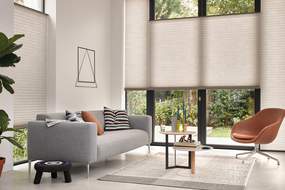 But how does it work?
It's all down to the distinctive honeycomb cells which trap air, allowing them to act as an insulator. This helps to keep your home warm in winter by keeping more heat in and cooler in the summer by reducing incoming heat. The unique cell-in-cell construction with three insulating air layers offers superb insulation for your home.
The special design also helps block the sun's UV rays, which left unchecked can cause fading of flooring, art and furniture. Duette Shades® create softly diffused light in your home with exclusive colour and design choices to suit your style.
Top 4 tips for saving energy at the window
Ensure your windows and doors are properly weather proof.
When heating, keep windows closed & locked.
Open your window coverings during sunny winter days to catch free solar heat then close them at night to keep that heat in.
Close your window coverings during summer days to keep the heat out.
Luxaflex® products help conserve energy at the window in these three important ways:
1. Insulation
In the colder months, your home heating escapes to the outdoors through your windows while in the summertime, the outside heat flows into your home through these same windows. With window treatments that provide insulation, you can reduce energy consumption, save on heating and cooling costs, and create a more comfortable atmosphere.
2. Solar Heat Control
The warmth provided by the sun, its solar energy, may be desirable during the winter to help heat your home, but in the summer, it can make a room overly hot and uncomfortable. Many Luxaflex® window treatments help to control solar heat by allowing it into your home in the winter and minimizing the amount that comes in during the summer.
3. Daylighting
Daylighting is the practice of lighting rooms with natural light rather than artificial light. By drawing natural light into a room many of our window treatments reduce the need for other types of lighting, thereby reducing your energy use.