Your kitchen is the hub of your home – it's not just a functional space, somewhere to cook and do the washing, it's also a place where you can put your creative stamp and make it a room you love.
Of course, there are some practical problems to think about too; because cookers, dishwashers (maybe even a tumble dryer) contribute to a hot, humid atmosphere which would play havoc with traditional window coverings.
But rest assured a stylish shade or elegant blind can offer the perfect solution.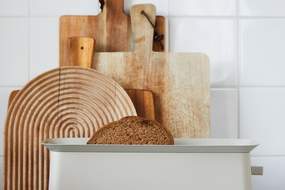 Roller Blinds fit any size kitchen window
Elegantly slim, supremely stylish, Luxaflex® Designer Roller Blinds can fit almost every kitchen window size – giving you the design or colour scheme you want across different areas or even whole rooms. And with literally 100s of colours and designs to choose from, you're sure to find something to match your own personal style.
Discover the complete collection at your local Luxaflex® Showroom.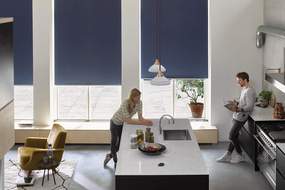 Faux Wood
Easy to wipe clean and super stylish, custom-made Luxaflex® Faux Wood blinds are a practical and stylish choice - especially for windows near a sink where humidity can be an issue. The wide range of natural stains and the latest modern painted wood looks - complement every kitchen style.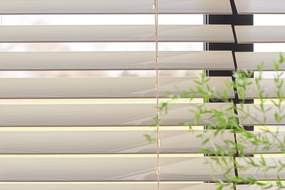 Shutters
The sleek and solid design of Luxaflex® Shutters reduces the risk of warpage, cracking, fading, chipping, peeling, or discoloring, making them the go-to window treatment for kitchens where condensation and humidity are present.
Made from tough, modern materials that are easy to clean, your shutters will stay looking as good as new in your kitchen. Choose from a select range of models to suit your light and privacy needs to style preferences at selected Luxaflex® showrooms.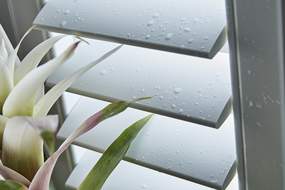 Operate your blinds at the touch of a button
Does your kitchen have lots of windows? Or extra-large windows? Or hard-to-reach windows? If the answer's 'yes' then you should think about Home Connection™ motorisation. Move your blinds & shades with a touch of a button on your remote control, wall switch, or smartphone.
It's the easy, safe and convenient way to adjust light, control heat and create privacy. Find out more about Home Connection™ motorisation here.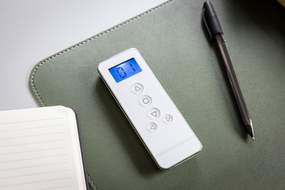 Designed with safety in mind
The kitchen is the heart of the home, so it's only natural it's full of life, noise, and children which is why we treat child safety as our top priority. Choose a cordless or motorised lifting system for safety and convenience.
Your local Luxaflex® retailer will help you choose what's right for your kitchen. Get in touch today!