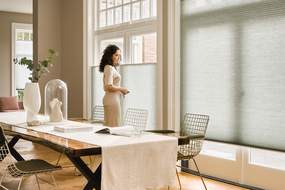 Do you live on a road where your windows are overlooked? Or do you require privacy but still need the light within the room?
Open your shades from the top, from the bottom, or somewhere in between – and find your perfect balance of privacy, light and your view. We call it 'Top-Down/Bottom-Up', but to you it simply means a beautifully versatile approach to light control.
5 reasons to choose Top -Down Bottom- Up Blinds
Our unique custom-made window blinds feature a complete range of classic to contemporary styles with exclusive looks that create a truly special feeling in your home. And with the personal service of our expert retailers, you'll enjoy a stress-free experience to get the very best solution for your home.
Ultimate in versatility
Perfect for Tilt & Turn Windows
Child safe design
Exclusive styles - premium quality
Made to measure for your home
'Top-Down/Bottom-Up' is available with
What's right level of privacy for your home?
If your home is street-facing, or if a room is overlooked, privacy matters. The unique Luxaflex® 'Top-Down/Bottom-Up' design gives you just as much privacy as you need. And what's more, if you also choose a smart operating system like our innovative LiteRise® design, you can precisely set the position of your blind with one hand…lifting or lowering it easily.
Style, privacy and more
Luxaflex® made to measure blinds may offer all the privacy you're looking for, but you'll never have to compromise on style or sophistication. You can select from a range of stunning colours and rich, opulent textures to find a fabulous design direction for your home.
Energy Efficiency for your home
And, on a more practical note, our unique Duette® Shades with 'Top-Down/Bottom-Up' can also reduce heat loss in your room by up to 46% – cutting heating bills and making your home ultra-energy efficient.
What are the best blinds for privacy?
From Roller and Roman Blinds to stylish shutters, some styles offer more privacy than others due to the type of material, fabric, or operating features. Pop into your local Luxaflex® retailer to see all the options and styles.
How can I keep the light but have privacy?
You can enjoy light and privacy in one with Luxaflex ® "Top-Down / Bottom-Up" blinds. They are a great choice as you can open your blind from the top, bottom, or anywhere in between for flexible privacy and light control in one. See all the options by visiting your local Luxaflex® retailer.
Should blinds be turned up or down for privacy?
Depending on the style of Luxaflex® blind you choose, you can tilt or traverse the slats, vanes, or louvers to create more privacy so passers-by can't see into your home. Get expert advice on what's best for your home and windows.
Where can I buy these blinds?
You can see our full range of exclusive privacy blinds and shutters, at your local Luxaflex ® retailer. You'll get expert advice and inspiration too as you browse all the styles for your home's decor!