Now there's no reason to compromise when you want a true designer finish to your bathroom décor. We have a fabulous range of blinds, shades and shutters covering classic to contemporary –all designed to stand up to the day-in, day-out practicalities of condensation and humidity you'd find in any bathroom (or kitchen)…however well ventilated.
Ask your local retailer about which Blinds, Shades and Shutters work best for your bathroom.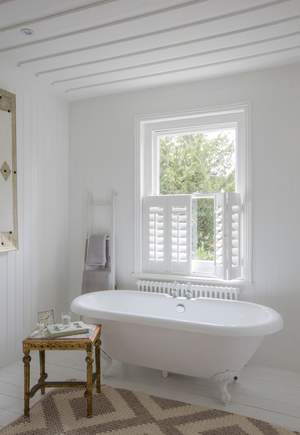 Bathroom Shutters
Water Resistant Shutters
Stylish and damp proof, Luxaflex® bathroom shutters should be your first choice for the bathroom. Easy to clean, child-safe, and most importantly, damp proof so they won't fade, crack, or chip.
Choose from a range of shutters models to suit your bathroom needs, from the shape of your bathroom window to protecting your privacy or light control requirements.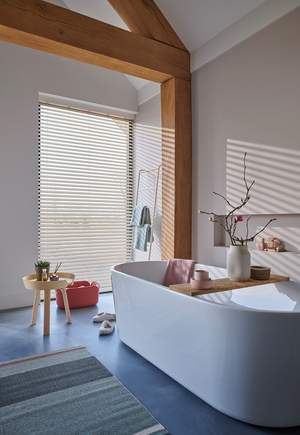 Bathroom Wood Blinds
Nature Inspired Faux Wood Blinds
Luxaflex® Faux Wood Blinds features the natural warmth of a real wood blind with practical man-made materials that stand up to everyday bathroom humidity.
Easy to clean, damp proof, and highly durable, custom-made Faux Wood Blinds come in inspiring looks and design options to blend beautifully with your bathroom décor.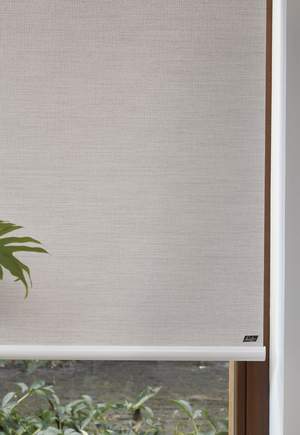 Bathroom Roller Blinds
Damp proof Roller Blinds
Specific fabrics in our Roller Blind collection are suitable for moist environments such as the bathroom, utility room, or kitchen. For pure luxury during your self care routine, go smart and motorise your Roller Blinds for the ultimate convenience and style.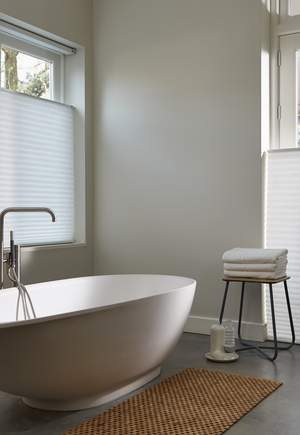 Bathroom Duette® Shades
Control light, choose privacy with Top-Down / Bottom-Up
Privacy is so important in making a bathroom a real sanctuary. And our unique 'Top-Down/ Bottom-Up' option gives you all the freedom you could want to create just the right level of privacy. Choose to open the shades from the top, the bottom, or somewhere in between and control light with beautiful simplicity.
Saving energy in the bathroom
A bathroom window is no different from any other window…you can still lose up to 50% of the heat through it. Consider Duette® energy-saving shades which help cut the heat-loss with a unique design to help keep you comfortably cool in the summer and wonderfully warm in the winter.
Chat to your local Luxaflex® retailer today to discover more.