Blinds vs Curtains
Have you just moved into your new home, or you are improving your current home? Window styling has endless possibilities. How you dress your windows can have a big impact on the overall look of a room. Whether you are looking for privacy, light control, remote operation, temperature control, or simply window styling, Luxaflex® has something to suit your needs.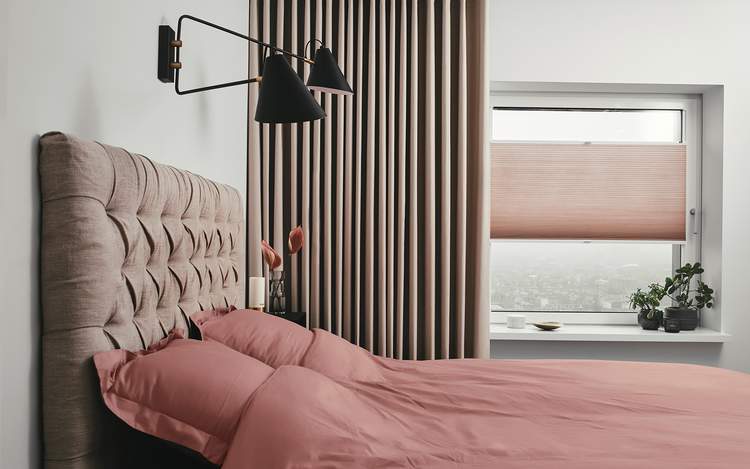 When choosing between blinds and curtains...
One of the biggest deciding factors is the room they are going into. Due to moisture in the air, we would recommend blinds in a bathroom or kitchen. A combination of both blinds and curtains is ideal for the living room and bedroom for a layered look. Curtains offer added warmth and depth while blinds offer light versatility, plus blackout blinds are essential for those Sunday morning lie-ins!
Compromise is key
If you're looking for a compromise Roman blinds offer the best of both worlds, combining the elegant feel of curtain fabric with the functionality of a blind. At Luxaflex® we use lining on both roman blinds and curtains which protects the fabric from fading while looking aesthetically pleasing from outside.
Curtain linings include standard lining, thermal lining, or blackout lining. Roman blind linings include standard bonded lining and blackout bonded lining.
Curtains are either opened or closed, therefore light control is limited. Blinds are more versatile, adjusting to your specific height to make your room more comfortable. Blinds can be more subtle and modern and tend to be easier to clean as most curtains will need to be dry cleaned.
Curtains tend to be more traditional and classy and they are a great way to add a decorative element to your room.
When it comes to the elephant in the room, generally blinds are more cost-effective than curtains. Often it boils down to personal preference and a blend of both blinds and curtains can be best. Whether you choose blinds or curtains, or both – rest assure your window treatments will be made to the highest child safety standards.
Browse our made-to-measure blinds at your local Luxaflex® showroom today.