A Buyers Guide to the Art of Roman Blinds
Roman blinds have been a style staple forever. Their timeless style and classy sophistication will never date. Roman blinds are a hybrid of blinds and curtains, offering the softness and luxury of a fabric with the practicality of a blind, ideal for diffusing, shading, or blocking light in every room of the house.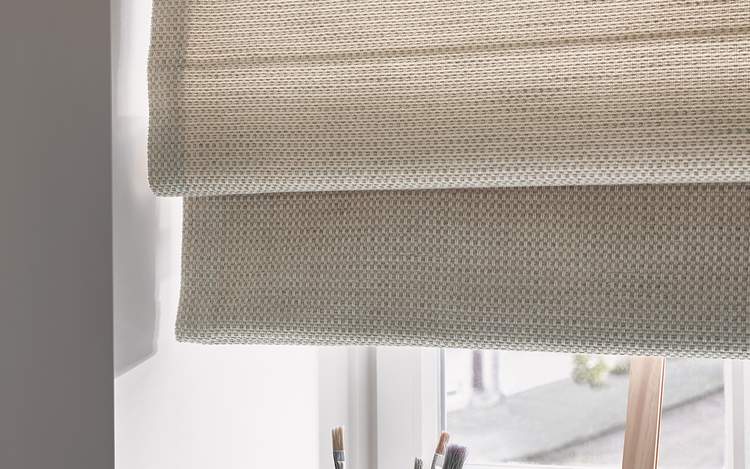 Get a feel for fabric
Create a sense of cosy elegance or make a statement. Roman blinds are extremely versatile – whether your home is modern and industrial or traditional and classic, our Roman blind collection features an eclectic range of luxurious fabric designs to beautifully complement your home. Choose from textured fabrics, bold prints, traditional patterns, neutral colours, and everything in between.
Each room will come with its own challenges such as light control or privacy. Choose between light filtering or blackout lining. At Luxaflex® we use lining to protect the fabric from fading while looking aesthetically pleasing from outside.
*Style Tip: Layer a blackout roman blind in front of a sheer roller blind to benefit from diffused light, added privacy and an uninterrupted view throughout the day, and a dark room to help nod off at night.
Get Moving
Operate your blinds using a chain, or upgrade to motorised blinds with Home Connection™. Raise, lower, or choose your favourite blind position, all at the touch of a button using our sleek remote or wall switch. You can also create a personalised experience by using the app on your smartphone/tablet or voice control with Amazon's Alexa, Google Home, or Siri. No matter what operation you choose, all our Luxaflex® products are made child safe. For more on child safety click here
Get Fit
Fitting your new Roman blind inside the window creates a subtle, clean, and contemporary feel. Hanging the blind outside of the recess creates a more traditional look
*Top Tip: If you are using blackout lining, we suggest fitting outside the recess to stop the light gaps at the sides when the blind is fully closed.
Make Up Service
Did you know we offer a Roman Blind Make Up Service? If you don't find a fabric you adore in our collection book, or you want to match your blind to a piece of furniture in your home, why not send in a fabric of your choice and we will custom make it into a roman blind – it really is that easy.