Modern Florals – Contemporary Interiors Are Coming Up Roses
Florals are always a valuable interiors fashion statement. Pleasing to the eye, florals offer a timeless design that has been reimagined in a wide assortment of textures and styles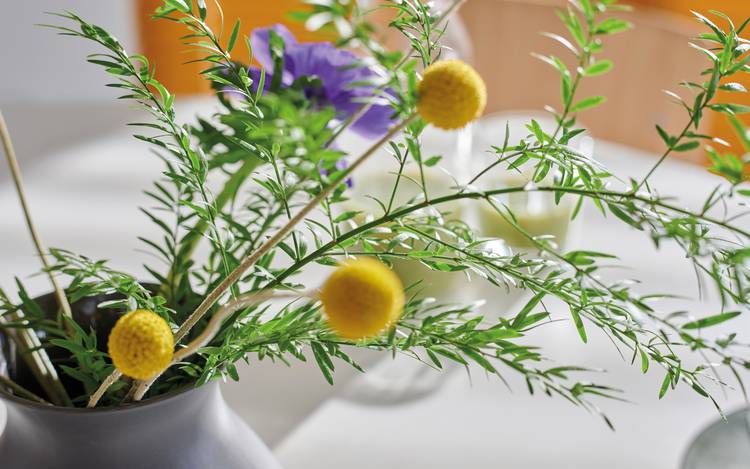 The design urge to bring the outside in means florals are always in interiors fashion. The eternally pleasing, soothing qualities of the natural world and its captivating colourways explain the proliferation of floral fabrics and floral wallpapers that fill look books and magazines. If floral design seems something that you associate with faded design glory take a look at this blossoming new wave of floral interiors ideas.
Freshen Up
Floral prints don't have to mean a blousy country rose print fabric. They can deliver an uplifting and energising atmosphere and depending on the light, help cool the feel of a room. This Plisse window covering diffuses the harshness of the incoming southern daylight and keeps the best of its brightness. The watercolour looseness of the floral pattern makes a friendly connection between the outdoor and in, a lovely detail for garden picture windows.
Climbing the wall
Another obvious expanse calling out for a floral tribute is the very fabric of the room, the walls. Bold floral wallpaper can really pull a design together by incorporating tones and highlights to pick out and use as a basis for the rest of the scheme. Remember that the wall décor will need to change as the seasons and light do, so ensure the wall décor is not too lacklustre for nighttime.
Drawn In
A botanical design can add an interesting twist to the floral theme. The fine lines of these drawn ferns keep the pattern light and airy, avoiding a floral pattern overwhelming more subtle parts of a interiors scheme. These Roman blinds add in the earthy element of the woven fabric whilst keeping the lines clean and functional. Ideal for very large windows that can feel cold or plain.
Gentle Touch
House decoration can be a big commitment, financially and energetically. If you want to experiment with the idea of contemporary floral designs try starting small. The popularity of jungle prints for home accessories such as exotic bright floral cushions, notebooks and shower curtains mean you can add some floral decoration in an instant. Also great for turning a wintry sitting room into a summery lounge.
High Contrast
Using florals in an unexpected way can deliver a much bigger design impact than any of the individual elements can deliver on their own. The dark walls and deep burnished wood of this kitchen cabinetry seem all the more bold against this pretty magnolia print Plisse, reminiscent of an English country garden. Pale blue contrasts well with deep wood tones, making them also seem richer, and the pattern is a more captivating variation than a plain expanse.
Fragile Blooms
For a minimal scheme the hint of a floral pattern, rather than a figurative representation, can subtly enhance the atmosphere without drawing the eye too much. This neutral floral print reminiscent of the shadow of a leaf, stops the large picture windows becoming blocky and flat. These can be especially effective when trying to soften the strong lines of UPVC or metal frames.
Floral Centrepiece
Want the heat of a summer garden in a more quirky fashion? Try looking for lighting, rugs or floral tiles that take inspiration from flowers but don't necessarily mimic their form. This laser cut side table in a stylised, simplified design and coral tone adds a contemporary pop against this traditional rug, and would be even more impactful in a completely plain white room.
Floral Focus
With the right covering a window wall can operate in the room scheme as an extra plane. The delicate spring-like atmosphere of this loosely drawn Plisse in pretty greens and white blends into the wall when closed and acts like a papered feature wall. This type of gently enervating floral design can be ideal for bathrooms where privacy is key but the desire for a fresh and airy feel is essential.
Enjoy this blog? Share with friends/family using the links below.