Explore the latest kitchen trends
This year kitchens have become so much more than they ever were before, no longer just a room to eat, laugh and create memories, they've been transformed into home offices, classrooms and workout spaces.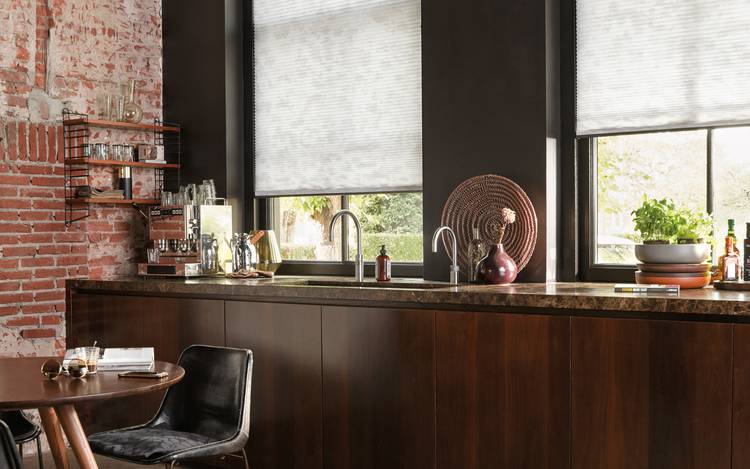 A place where we tuned into watch the daily lock-down announcements, for news of hope, during what can only be described as extraordinary times.
So, if you've spent recent months dreaming of an overhaul of the room that truly is the heart of the home, here's some inspiration on the latest kitchen trends, which we hope will spark your creativity and get you started.
Blue is the new grey
The great grey revival is being steadily phased out as a wave of blue hues roll into homes across Ireland.
From deep navy to Pantone's Colour of the Year, Classic Blue, people are choosing different shades as either block colours on walls and units or as splashes of colour in accessories and linens.
If you're worried that these darker shades will make your room look too dark, choose our light loving Silhouette® Shades to brighten things up. These technically advanced fabrics will enhance the natural light, whilst offering unspoiled views to the outside.
Sleek chic
Sleek, contemporary kitchens continue to rise in popularity and can be found anywhere from ultra-modern apartments to cosy country cottages.
High gloss, handless units with integrated appliances can sometimes look too stark, but there are a whole host of options to ensure a warm welcome.
Warm wooden herringbone flooring, subtle lighting are a perfect match for our Roman Blinds collection, crafted from silks, linens, Luxe velvet or Chenille can add a lasting finishing touch. Delivering on both style and practicality.
Natural vibes
Wood is in, and the trick is to keep it natural, avoid using lacquered finish, instead let it show some of the natural texture and knots. Team wood with stone for a rustic, cosy space for the whole family to enjoy feeling at one with nature.
The Luxaflex® Wood Blind range includes beautiful hardwood and modern faux wood materials to complement any cute country kitchen.